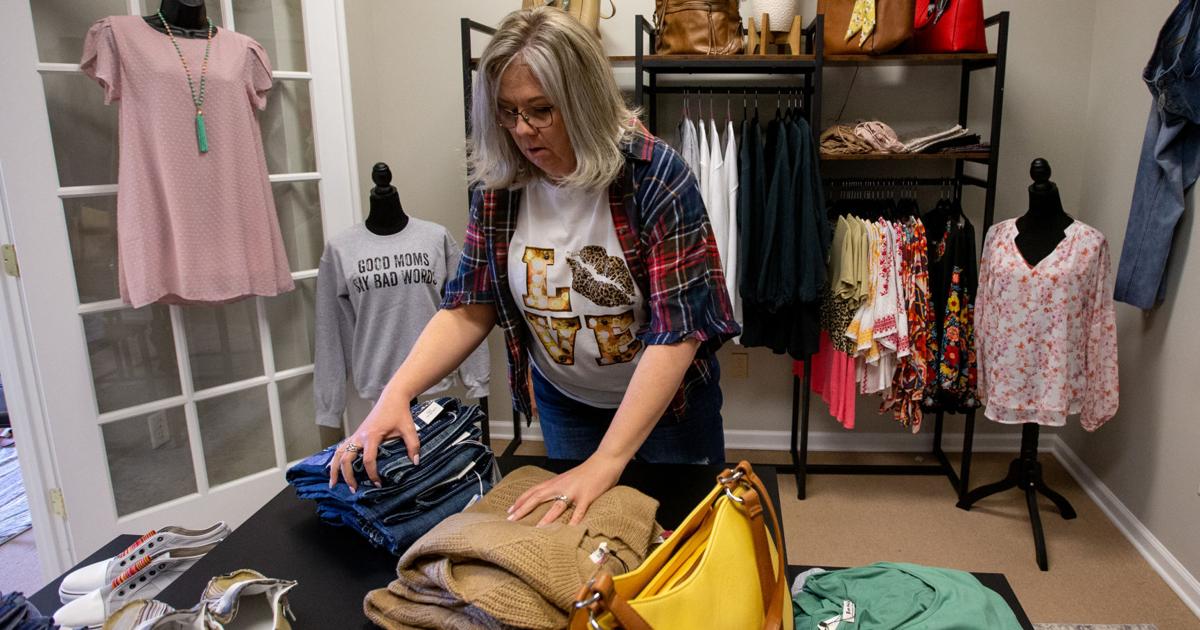 Creekside Boutique Adds Women's Clothing, Accessories To Broadway's Shopping District | Features
Growing up, Amy Funk pretended her bedroom was a boutique, arranging her things just so for pretend customers to peruse.
"My closet was my store and my Cabbage Patch Kids dolls were my customers," Funk said.
Funk went on to become president of JKC Transport Inc., a trucking business based in Broadway. While still president of the transportation company, Funk is pursuing her lifelong dream of opening her own clothing store.
That dream came to reality Friday, when Funk opened Creekside Boutique, a women's fashion store offering a variety of styles, at 411 S. Main St. in a tidy space that used to hold business offices.
Warm string lights beneath an awning greet customers outside of the store's entrance, which is tucked next to a Kline May Realty office, near Italian Touch restaurant.
"It feels like she's been there forever," said Cari Orebaugh, director of marketing and development for the town of Broadway. "I love what she did with the space. She has a great variety of inventory and it has a great flow for shopping."
Upon entering, the space is peaceful and quiet, with soft gray walls, accented by lit branch-shaped wall hangings — perfect for thoughtful shopping. Sweet lace bralettes laid out on a table were a centerpiece of a square main room that had tasteful racks curated with fashionable dresses, shirts, skirts and jeans.
The store features stylish clothes from Western to "contemporary classy" and accessories for fashion-forward women of all ages and sizes.
"I want a little bit of something for everyone," Funk said. "If you're a size zero, I want you to come in here and find something that you like and if you're a plus-size curvy girl, there's something in here for you, too."
Funk said a big draw of the store is it carries Grace in L.A. jeans, a sought-after brand of embellished denim pants. On opening day, the store had a wide selection of jeans with a lot of fun touches, including rhinestones, fringe and bell bottoms.
Atop the racks of clothing, smart purses in bold colors from moderately priced fashion brands like Steve Madden and London Fog beckoned to customers, who included retired women, mothers with young children and Broadway Town Council member Chad Comer.
"I love everything about Broadway, and Amy and I went to school together. Having a business downtown [is great for her]," Comer, owner of nearby small business Blue Ribbon Nursery and Landscaping, said when he came to deliver a blue hydrangea plant as a gift and to buy a gift certificate from Creekside Boutique.
Not overwhelmed with merchandise, the store also features a small children's section and spacious fitting rooms. Funk said she is hoping to keep the products changing, so whenever customers visit the store, they're likely to see something new.
"I've got inventory coming in next week more and then I'm planning my next inventory order for two weeks from now," Funk said.
Funk, a Broadway resident, said she usually goes to nearby Harrisonburg to shop, since there aren't many options for buying clothing in Broadway. Funk said she is offering a more convenient option for local people and a new destination for visitors.
"I like boutique shopping because they're unique items. You can't just go to a big-box store and get it," Funk said.
Orebaugh said the store accents the town's small-business shopping scene. The Creekside Boutique joins Cat's Meow Boutique, a store that carries antiques and collectibles, the Cottage on Louisa, an antique store, and J&B's Country Store, which includes over 100 vendors, according to the Broadway Hometown Partnership website.
"It definitely adds a different option for our residents and visitors," Orebaugh said. "It's been a great fit so far for our town."